Aromatherapy: The essential facts
Aromatherapy is the art and science of using essential oils to promote mental and physical health.
Aromatherapy is an ancient practise
Reduce stress, blood pressure, skin irritation, and so much more with aromatherapy.
You know those days when you've had a full day of meetings and all you want is to have a long soak in the tub? We've all been there.
I know how stressful life can get and achieving that work-life harmony can be tough.  Some people have their own stress-busting rituals and routines. For me, I love to use aromatherapy to shake off the burdens of modern life.
Aromatherapy not only helps me unwind, but I have also observed a noticeable difference in my physical and mental health after I started using aromatherapy. Namely, I've seen improved immunity, better mental health, and better sleep quality.
Aromatherapy isn't just scented candles or bubble baths. It's the art and science of combining essential oils in a way that boosts their healthful properties.
What is aromatherapy?
I am sure you must have heard of aromatherapy, maybe even dabbled a little in it. So what is aromatherapy? And why is aromatherapy so popular? Gather round, Ollie tribe.
I will give you an introduction to the wonders of aromatherapy and how you can use it to restore your physical and mental health. Aromatherapy is the subtle science and exact art (extra points if you get this Harry Potter reference!) of combining essential oils to create blends that promote holistic healing and relaxation. More than just mixing a bunch of essential oils together — and adding them into the diffuser, it's a skill that requires knowledge of:
How essential oils work, and
What the different properties of essential oils are.
Curious to know more? Let's find out together!
What is aromatherapy good for?
Aromatherapy has multiple health benefits. These include reducing stress, improving mental health, reducing inflammation, and so much more! Other than at home, you can even use aromatherapy in your workplace (check with your colleagues first) to boost productivity and interpersonal harmony.
Just get creative with your aromatherapy use–think room mists, air fresheners, fabric scent boosters.  But first, here's an Ollie caution: Not knowing how to correctly use essential oils may actually harm your health.
I want to help our Ollie tribe make use of essential oils the right way. So just take a few moments to read about the different essential oils in my blog. You'll learn about their unique properties and how they can be blended to create wonderful wellness-boosting blends.
Why try aromatherapy?
My Singaporean friends, I know many of you face physical and mental health issues daily. A lot of it has to do with our stressful lifestyles and poor health habits. Perhaps aromatherapy can be beneficial for you?
How to use essential oils for aromatherapy
There are three main ways to use essential oils:
Aromatically
Topically
Internally
The first two methods are the most popular. We don't recommend using essential oils internally unless the underlying source plant is edible (consult your doctor before you use essential oils internally).
Some essential oils like my Kochi Lemongrass Oil, Lemon Oil, and Peppermint Oil are safe for ingesting in very limited quantities, in the right dilution. But others are not! I promise not to overload you with information, so I'll just focus on the aromatic and topical uses of essential oils.
The aromatic use of essential oils is an extremely popular way of using essential oils. You basically inhale the essential oils (but not directly from the bottle). Try any of the following ways to aromatically use essential oils:
Diffusers
Spray bottles or misting
Incense sticks
The other method of using essential oils is topical. This basically means you are applying the essential oils onto your skin so your body can absorb it. There are various ways to use essential oils topically, such as:
Massage blends
Adding to skin-care products
Ointments and salves
Roll-ons
There are many other ways to use essential oils topically. Just be creative, but never use essential oils on your sensitive areas such as genitals and mucous areas (i.e. nose, eyes, and mouth).
Caution: Always dilute essential oils with a carrier oil when using topically. A carrier oil like almond oil or coconut oil enhances the effectiveness of essential oils and makes it safe for your skin. NEVER use undiluted essential oils directly on your skin.
The rule of thumb for dilution is for every 1-2 drops of essential oil use 1 tablespoon of carrier oil. You can use essential oils in water only if you are using it in a diffuser because oil and water don't mix!
Getting started with aromatherapy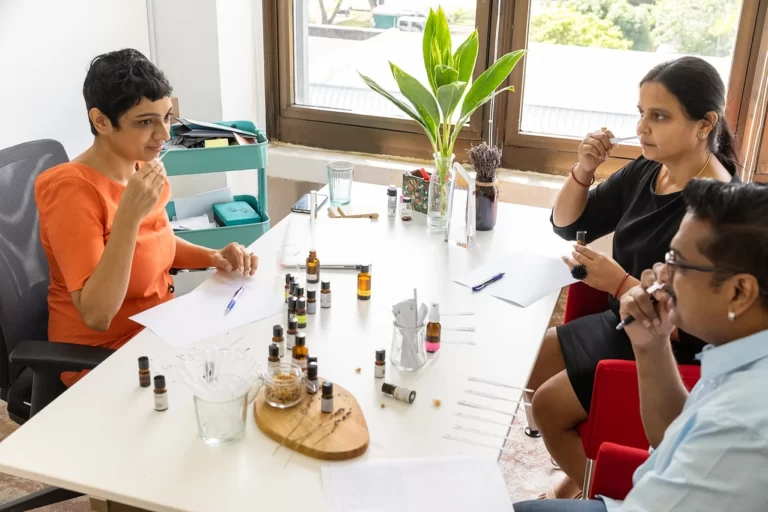 All you need for aromatherapy are essential oils. Start with one or amass our entire collection, it doesn't matter. But if you are having trouble deciding which essential oil to buy first, use this SURE method!
Sensitivity: Do you have any skin sensitivities or other ailments that might be worsened by using certain essential oils? Check with your doctor.
Use: How often will you use the essential oil and via which method/s (aromatic, topical, ingestion)?
Reason: Why do you want to use aromatherapy?
Experimentation: Are you ready to experiment with different essential oil blends?
All the essential oils I sell in my store are perfectly suited for aromatherapy. I highly recommend you experiment with different oils to see what works for you.
In addition to essential oils, one of the best tools for aromatherapy is a diffuser, a machine that disperses essential oils in the air via a jetstream of water vapour. Use this to get the most out of your aromatherapy blends.
They are widely available online.  Diffusers also require little set-up and only two ingredients (water + essential oils), yet the benefits are immense (freshens the air, disperses essential oils to a large area, and improves breathing).
You can mix and match different essential oils to see what works for you. My blog contains useful information on the properties of each oil I sell. You don't have to limit your diffusing to one single oil. You can add multiple drops of a combination of different oils.
Which essential oils to use for aromatherapy?
Most essential oils have some form of healing, medicinal, antimicrobial, or energizing properties. Depending on what you need, you can choose which essential oils to use for aromatherapy.  Popular essential oils for aromatherapy are:
Choosing the right oils for aromatherapy can be daunting, especially with many options available in the market. Unfortunately, many essential oil brands tend to adulterate their oils with synthetic fragrances or mix their essential oils with other lower-quality oils. This can seriously impair the effectiveness of your aromatherapy sessions.
Sustainability and high quality are the cornerstones of my essential oils. I source my oils from farms that follow sustainable growing, harvesting, and distillation techniques. Every bottle of Ollie's essential oils that you buy undergoes stringent quality checks to ensure that you get only 100% pure essential oils and nothing else. When you use 100% pure essential oils such as mine, you can be assured that your aromatherapy will be highly effective and you are getting the most out of it.  This chart is a quick guide into various essential oils by properties



Many essential oils have overlapping properties, so you can simply blend your favourite oils together to create a powerful blend.  My blog contains articles on each essential oil and their unique properties. I have also included some great diffuser blend and aromatherapy recipes in each article that you can try out at home with your essential oils!
Frequently asked questions about aromatherapy
The main ingredients in aromatherapy are essential oils. My online store has a wide range of 100% pure essential oils specifically suited for aromatherapy.
It is important to properly understand essential oils before you use them, in order to make the most of their health-boosting properties. If you're a first-time user, you're likely to have these following questions — and I'll help to answer them! Q: Do I need to buy every essential oil in your online store?
Ollie says:- Not necessarily, but it's beneficial if you have at least 2-3 different essential oils. Q: Are essential oils easy to use?
Ollie says: – Yes if you know how (we've got some great resources to help you). Q: Can essential oils improve my health?Ollie says:- Everyone's body responds differently, but you'll see some positive changes if you use them properly.  Q: Can I just randomly dab a few drops of oils onto my skin? Ollie says:- No! Please follow the instructions we have on our articles.
The Takeaway
Aromatherapy promotes relaxation and other positive effects, which in turn can have health and mental wellness benefits. Stay tuned for our next few articles on detailed ways to use aromatherapy. Speaking from personal experience, your aromatherapy journey will be SCENT-SATIONAL!
Do keep experimenting — there are endless different aromatherapy combinations using essential oils and each one has a different (and great) health benefit. Check out my online store for a range of essential oils!
If you're curious, head over to my blog and browse through the articles to see what else you can do with your essential oils. I have numerous diffuser blend recipes as well as other topical aromatherapy recipes that you can whip up in a jiffy at home.
While you're trying your hand at blending essential oils and breathing in their wonderful aromas, do share your experience on Instagram by tagging me @Ollie_Oils. Follow me on Facebook— @itsollie_oils — as well to stay abreast of our latest offerings!