Introduction
Room mists are a great way to freshen up any room in your home. They are an instant way of removing unpleasant odors and changing the atmosphere in any living space. But conventional room mists are full of chemicals that are linked to multiple health hazards. You are breathing in toxic chemicals in the pursuit of a sweet-smelling home.
An essential oils room mist on the other hand is a natural, chemical-free alternative to artificial fragrance sprays and diffusers. Not only do essential oils room mists give a delightful scent to your home, but they also provide beneficial healing and energizing effects through their aromatherapeutic properties, making them safer for your family and the environment.
Why Should You Use an Eco-Friendly Room Mist?
Most folks who buy air fresheners from stores and supermarkets only look at the deodorizing effect of these sprays. But they rarely stop to think of the harmful health effects of these store-bought room mists.
Air fresheners can contain volatile organic compounds (VOCs) which can cause eye, nose, and throat irritation, headaches, nausea, and damage to the liver, kidney, and central nervous system.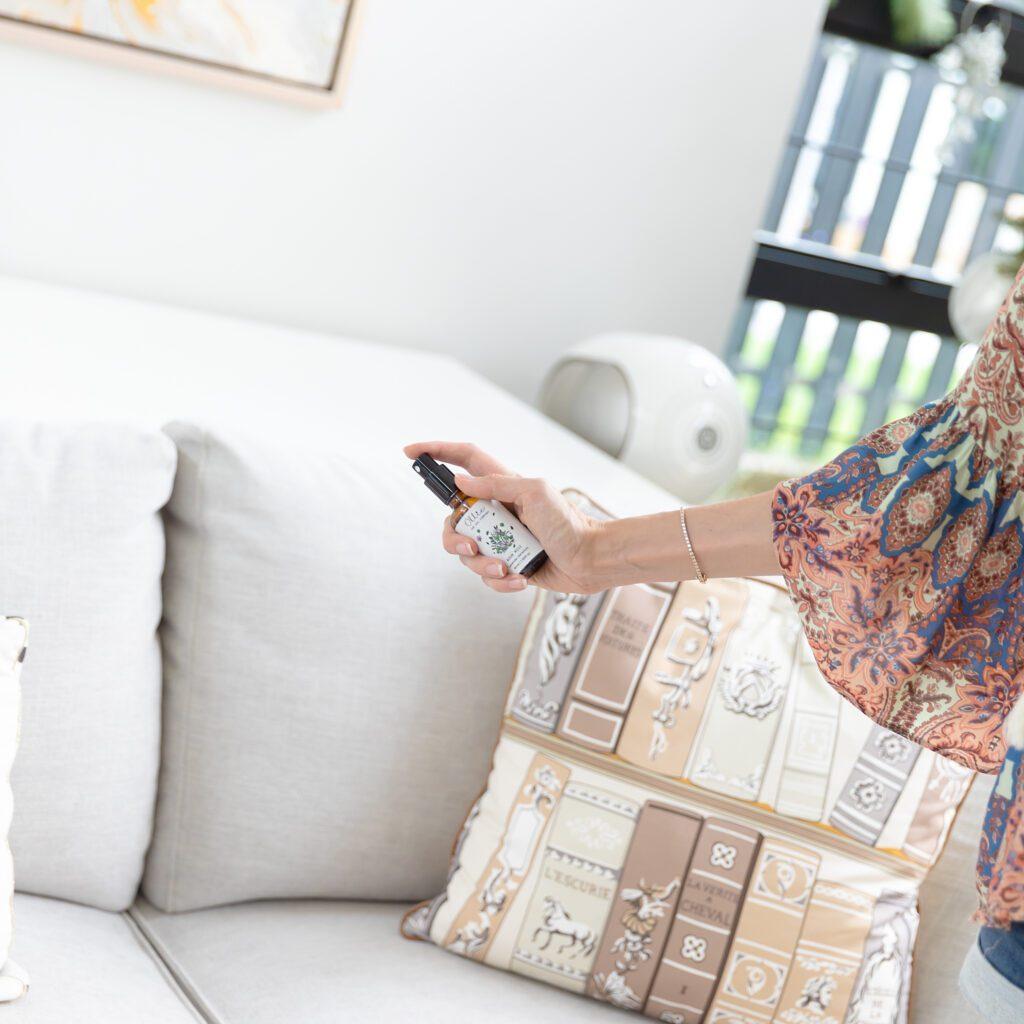 Many room mists also contain phthalates, which are chemicals used to make fragrances last longer. Phthalates can disrupt hormones and have been linked to reproductive and developmental problems.
Essential oil room mists are a great alternative to traditional air fresheners because they are natural, non-toxic, and free of harsh chemicals. They are made from plant-based ingredients so you are not poisoning your home with any unnatural synthetic chemicals. They are safe to use around children and pets too.
Natural room mists are a great way to incorporate aromatherapy into your home. Essential oils are known for their therapeutic benefits, and when used in a room mist, they can help to create a calming and relaxing atmosphere. Essential oil room mists can help to reduce stress and anxiety, improve sleep, and even boost your mood. They can purify the air, reduce odors, and even repel insects.
Essential oil room mists are a great way to make your home smell amazing naturally. It is a much healthier alternative to using synthetic air fresheners, which can contain potentially harmful chemicals.
I share my favorite room mist recipes here for you to try out at home as a fun DIY project. Making your own DIY room mist is much more cost-effective than buying store-bought air fresheners. You can customize the scent to your own preference to create a unique and pleasant aroma.
Here are my top 5 essential oil room mists.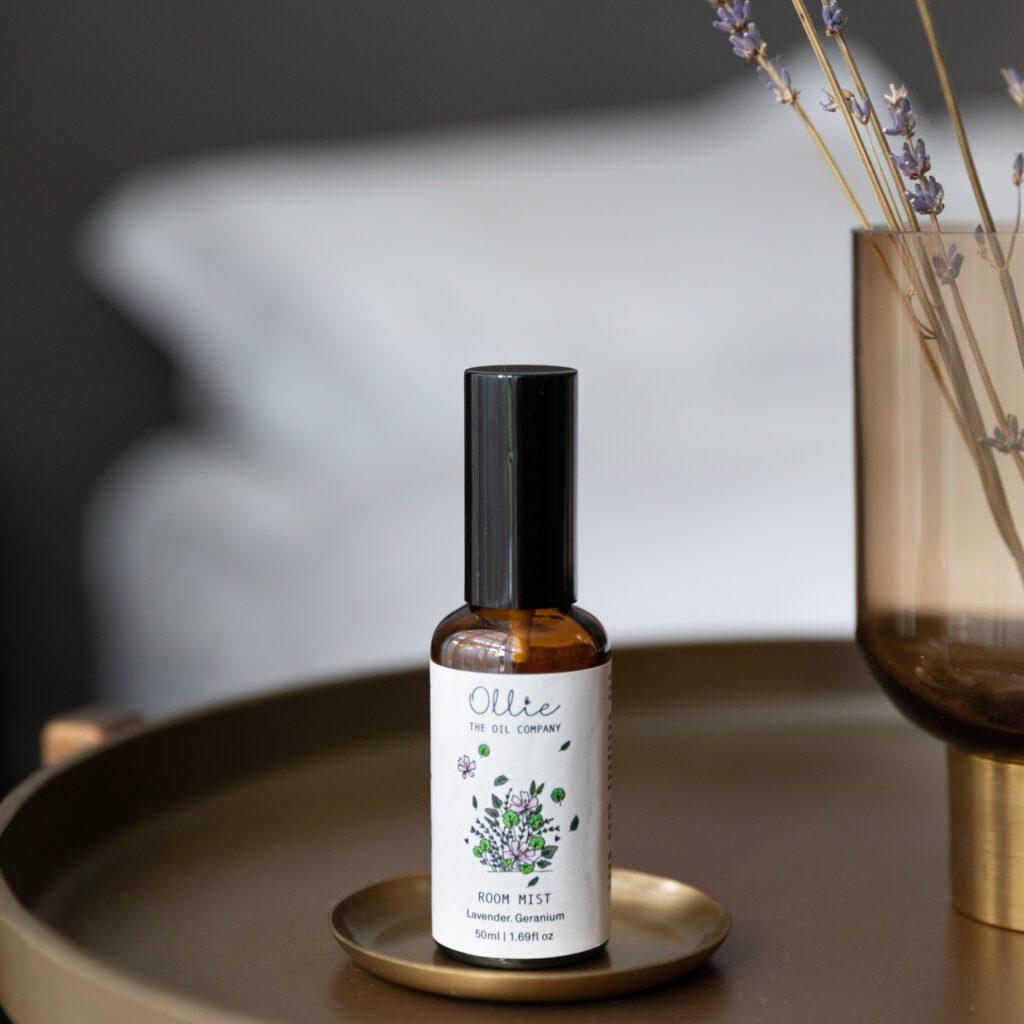 1.Ollie's Room Mist
I spent years studying the art of perfumery and aromatherapy to create a room mist that will make your home smell fresh & inviting and also elevate your well-being through the perfect complementary blend of aromatherapeutic essential oils.
Our Ollie's Room Mist is a natural and aromatic way to freshen up any room. The blend of Peppermint, Eucalyptus, Lavender, Geranium, and Cornmint Essential Oils creates a minty floral aroma while the Vitamin E and plant-derived emulsifier protect the essential oils and evenly distribute them when sprayed.
The aroma invigorates one's senses and instantly refreshes the space you are in. The essential oils used in this room mist also contain antiseptic and anti-inflammatory properties too, a perfect antidote for the multiple airborne diseases we are exposed to these days.
2. Circus Room Mist
Citrus essential oils are natural deodorizers and remove any nasty odors from your home in a jiffy. They are a pleasant, natural fragrance and can boost mental alertness and energy levels while purifying the air.
To make your own citrus essential oil room mist, you'll need:
Mix in a clean, dark-colored glass bottle and shake to combine. Spray as needed and always shake the bottle before spraying.
3.Herbal Room Mist
Do you love herbal scents? They evoke memories of warm summer days, a walk in the woods, or a day spent in the garden. Add a little bit of earthiness to your home through this herbal room mist recipe.
Ingredients
Shake well before each use and spray throughout the room for a grounding, de-stressing scent.
4.The Mountains-are-callingRoom Mist
With temperatures soaring, many of us wish we could escape to the mountains.
But if work and home pressures are keeping you in the hot cities, bring some of the mountains to you by spraying this mountains-are-calling room mist.
What you need:
Mix in a clean, dark-colored glass bottle and shake to combine. Spray as needed and always shake the bottle before spraying.
This room mist will calm your mind and bring a sense of coolness to your space. It has antimicrobial and deodorizing properties. The Scots Pine Oil is known for its calming and grounding properties, while Himalayan Cedarwood Oil reduces stress and promotes mental clarity. Nilgiri Eucalyptus Oil and Spearmint oil are both known for their refreshing and invigorating aroma.
5. Floral Room Mist
Floral scents always brighten up and sweeten the atmosphere of any room. If going out to buy flowers takes time and effort, make your own room spray from floral essential oils that you can spritz whenever you want a little perk-up.
Ingredients
Mix in a clean, dark-colored glass bottle and shake to combine. Spray as needed and always shake the bottle before spraying.
This floral room mist will have your room smell like a meadow. All of the essential oils used in this recipe promote mental relaxation, reduce skin inflammation even in aerosol form, and boost energy levels.
Essential Oil Room Mists Can Transform Your Home Into a Relaxing Oasis
Essential oil room fresheners offer a safe, natural, and customizable way to freshen the air in your home or office. Not only are these products free from harmful chemicals or synthetic fragrances, but they also provide emotional and physical health benefits.
I want to help you transform the energy in your home holistically through aromatherapy. With years of research and experimentation, I came up with an essential oils room mist that has a blend of essential oils which enhance each other's health-boosting properties.
Ollie's Room Mist is a natural, essential oil room mist that freshens and deodorizes any space. It is perfect for spritzing in the bedroom, bathroom, living room, or any other space that needs a little pick-me-up.
Free from harsh chemicals and safe for use around children and pets, Ollie's Room Mist is a must-have addition to make your home a healthier and more inviting space to be in.