What would you prefer? Slathering on a DEET-based mosquito repellent linked to severe skin irritation, seizures, and poisoning? Or an organic mosquito repellent that's safe for your skin, your kids, pets, and the environment?
If you picked the latter, good choice!
I've got some perfect, kids-safe, pet-friendly, and highly effective essential oils-based mosquito repellents you can DIY at home.
Why make your own mosquito repellent?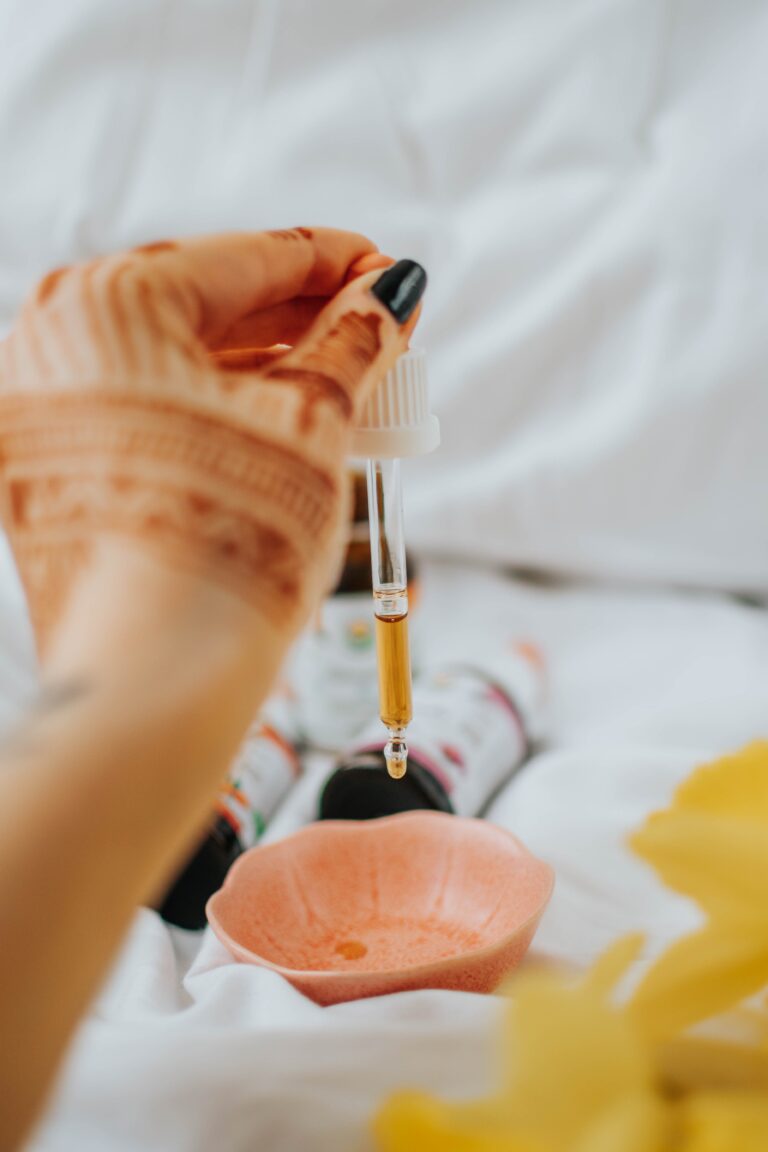 Most of the mosquito repellents available in the market have DEET in them. While DEET is a highly effective mosquito repellent, its health benefits are suspect.
DEET is toxic when accidentally ingested. It can cause seizures and severe skin irritation, and also ruins clothes made with synthetic fibres such as polyester.
When using DEET-based mosquito repellent on children, ensure they don't put their hands to their eyes or mouth after application (an often impossible feat)!
DEET has also been linked to the poisoning of aquatic life and birds when it is washed into waterways.
And if you have pets, DEET-based repellents are highly toxic to them even in small amounts. If you have a dog or a cat, chuck the DEET-based mosquito repellents. They can cause tremors, seizures, and death in your precious furbaby.
So what mosquito repellent can you use that is safe for pets, kids, and the environment? Read on to find out!
DIY Essential Oils Mosquito Repellent Recipes
If you are looking for a safe mosquito repellent that can be used without worry around children and pets while providing almost the same level of protection, try essential oils-based mosquito repellents. Apart from mosquito repelling properties, these essential oils also carry various aromatherapeutic benefits.
I like to suggest DIY essential oil recipes to Ollie's followers despite selling my own mosquito repellent spray. Just like you, I prefer to use something I created with my own hands over any repellent available in the store because I like to know exactly what I am putting on my body.
Without further ado, we've compiled our favourite recipes for DIY mosquito repellent made from essential oils.
Lemongrass, Geranium, Rosemary Mosquito Repellent Spray
Lemongrass oil has excellent mosquito repellent properties. It's got citronella oil as the primary compound which blocks the scents that attract mosquitoes to you. Citronella oil is a common ingredient even in non-organic mosquito repellents.
I also like to suggest Geranium and Rosemary oils because they have scents that repel mosquitoes and can be added along with lemongrass oil to make a stronger repellent. Geranium is often planted near window sills to repel mosquitoes and other bugs.
Recipe
10 drops of Kochi Lemongrass Oil
10 drops of Tunisian Rosemary Oil
8 drops of Egyptian Geranium Oil
1.5 tsp of witch hazel or vodka
50ml of water
Spray bottle
Mix the ingredients and store them in a spray bottle. Shake and apply every 30-45 minutes when outdoors and sweating heavily. Otherwise, re-applying once an hour works for mild outdoor activity.
Eucalyptus, Peppermint, & Lemongrass Oil Repellent Balm
This balm works as both a mosquito repellent and a moisturizer. The other advantage of this recipe is it doesn't need to be reapplied as frequently as a spray-on mosquito repellent as it doesn't evaporate as fast.
This mosquito repellent balm takes slightly longer to make than a spray, but the benefits are well worth the effort.
All three essential oils in this recipe have strong mosquito repellent properties. Eucalyptus oil also has skin-calming properties, so if you have any inflamed, itchy, or red skin from eczema or previous bug bites applying this balm will soothe your skin.
Recipe
12 drops of Nilgiri Eucalyptus Oil
8 drops of Peppermint Oil
8 drops of Kochi Lemongrass Oil
3 tablespoons Shea Butter
1 tablespoon Beeswax
½ tablespoon Coconut Oil
60ml jars
Pour the shea butter, beeswax, and coconut oil over a double boiler and stir until they are melted and combined.
Once they are cool but still in liquid form, add in the essential oils and stir them in thoroughly.
Allow the mixture to cool completely before keeping it in a refrigerator.
Slather it on whenever you are going out. The balm needs to be reapplied only once every 1.5 hours. I wouldn't suggest applying on your face, because it can cause breakouts in some people but it is perfectly safe for the rest of your body.
Ollie's Mosquito Repellent Spray
At Ollie, we highly encourage DIY-ing your essential oil products. Making DIY essential oil products can also be a really fun way to bond with your family or friends!
It is a great way to experiment with scents you like and learn about the benefits and properties of different essential oils while you're using them. If you're curious, I have articles on each essential oil describing its benefits. Feel free to choose which essential oils you would like to experiment with in your DIY recipes.
But DIY-ing can also be time-consuming and expensive, especially if you have to go out and buy multiple ingredients or have busy schedules.
If you're one of those people who want to be safe from mosquitoes but lack the time or energy to make your own mosquito repellent, we have the right product for you.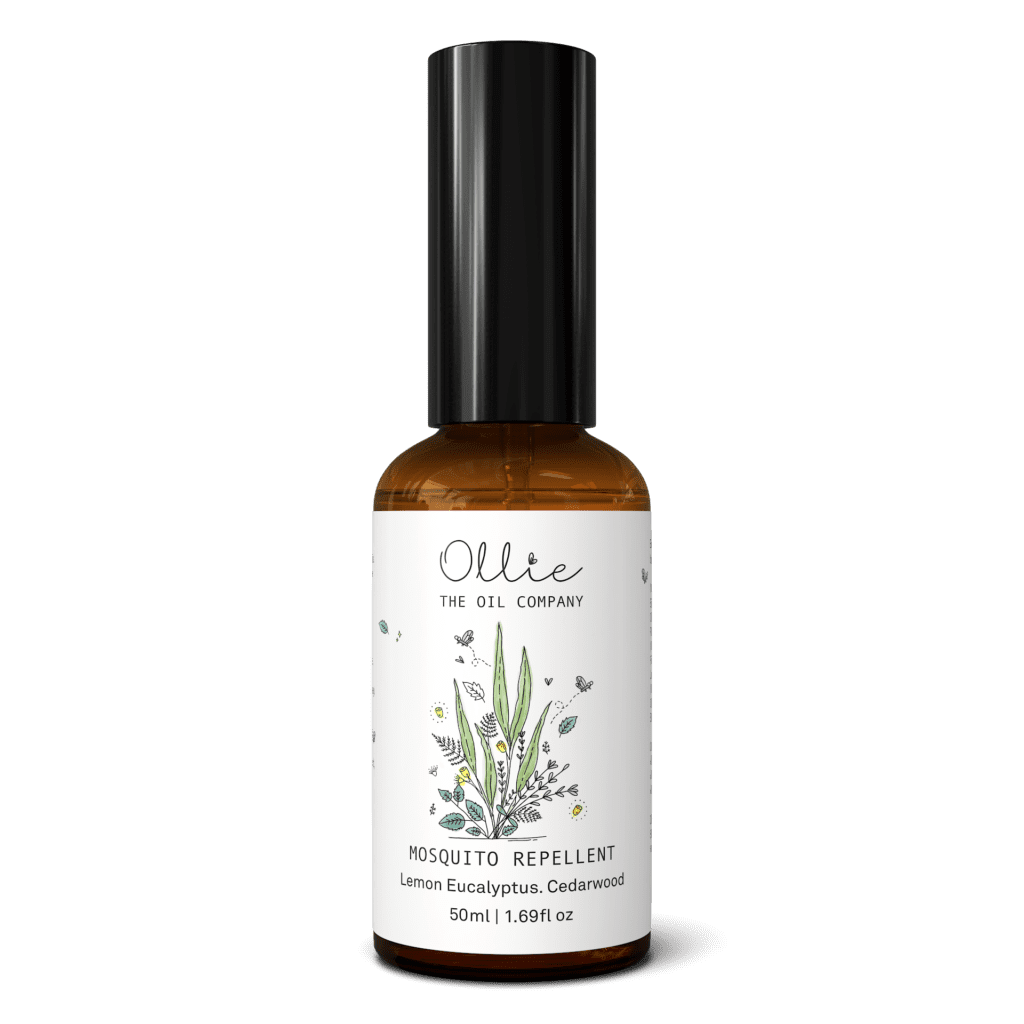 Ollie's Mosquito Repellent spray is made with a blend of 10 essential oils that repel mosquitoes and is safe for use by adults, kids, and around pets.
It is a sweet-smelling concoction that features essential oils such as lemon eucalyptus, rosemary, cedarwood, sweet orange, etc. to give you both maximum protection from mosquitoes and health-protecting benefits through the aromatherapeutic properties of the various essential oils.
You can purchase your bottle of essential oil mosquito repellent spray from here.