Combine the refreshing cool scent of eucalyptus with the citrusy sweetness of lemon and you get Lemon Eucalyptus Oil. There are many varieties of Eucalyptus trees. The most common one has the cool earthy scent we are all familiar with. But there is another variety of eucalyptus which produces a refreshing lemony scent—Corymbia citriodora or the lemon eucalyptus tree.
This tree is native to North-Western Australia. With cases of dengue on the rise in Singapore, Lemon Eucalyptus Oil is a must-have at home. It has strong mosquito repelling properties and many commercial mosquito repellents are made from highly processed lemon eucalyptus oil.
Lemon eucalyptus oil has high natural citronellol content— which is a substance that drives away and even kills mozzies.
With frequent haze in Singapore and masks causing breathing issues for people, diffuse some lemon eucalyptus oil with a few drops of cedarwood oil to clear your lungs and give your surroundings a breath of fresh air (literally)! If you are wondering what you can use Ollie's Lemon Eucalyptus Oil for, have a browse through this article!
Eucalyptus oil vs lemon eucalyptus essential oil: what's the difference?

Though both oils come from similar trees, there are many differences between the two.
Different species
Eucalyptus oil comes from the Eucalyptus globulus tree.
Lemon Eucalyptus Oil is derived from Corymbia citriodora
Both trees are somewhat related but not the same species. There are hundreds of different eucalyptus species.
Different scent
Eucalyptus Oil – clean, camphorous, cool scent
Lemon Eucalyptus Oil – soft, fresh, lemony scent which resembles citronella
Different chemical composition
Different chemical composition
Eucalyptus Oil – Eucalyptol, Alpha-terpineol
Lemon Eucalyptus Oil – Citronellal and Citronellol
Different uses
Eucalyptus Oil – Antibacterial, cough relieving, anti-inflammatory
Lemon Eucalyptus Oil – insect repellent, chest decongestant, air freshener
Although both types of eucalyptus essential oils are different from each other, they share many common functions as well such as air freshening, cooling, and soothing properties. You can blend the two together to create a harmonic balance of different properties.
Does Lemon Eucalyptus Oil repel mosquitoes?

One of the biggest uses for Lemon Eucalyptus Oil is in the production of mosquito repellents. Lemon Eucalyptus Oil has natural mosquito repellent properties, thanks to the presence of Citronellal and PMD (para-menthane-3,8-diol). Studies have shown that PMD is as effective as DEET in keeping away mosquitoes.
The best part? PMD is derived from plants so it is not harmful like DEET and is safer to use on your body and does not harm the environment either.
Lemon eucalyptus oil has naturally occurring PMD in lower concentrations. This not only gives the oil bug-repellent properties but also makes it gentle on the skin.
In fact, I sell my own mosquito repellent spray on my website. It works well for outdoors and has a great repelling action against not only mosquitoes but also other pesky bugs too!
My mosquito repellent spray makes use of essential oils like lemon eucalyptus and is safe to use on children and adults, alike! Plus it has antimicrobial and calming properties from the harmonious action of multiple essential oils such as cedarwood oil, tea tree oil, lavender oil and many others.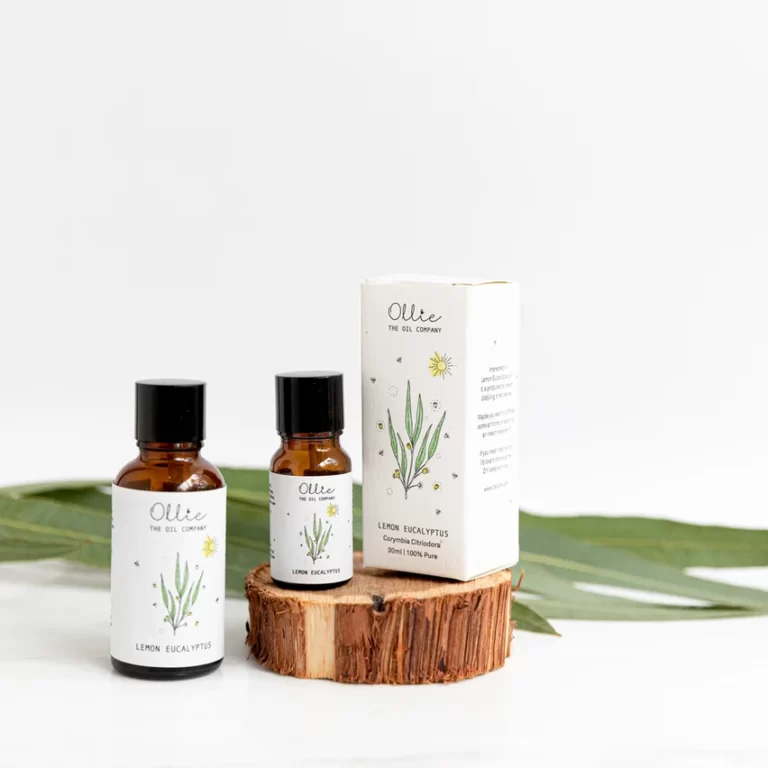 What is lemon eucalyptus essential oil used for?

Mosquito repellent is not the only benefit offered by lemon eucalyptus oil. Treat muscle spasms, arthritis, fungal infections…and more with a few drops of lemon eucalyptus oil. I've compiled a brief list of how I use lemon eucalyptus oil in my daily life.
Get rid of fungal skin infections

Singapore's hot and humid weather provides ideal ground for fungal infections to develop. The warm wet weather coupled with frequent sweating can lead to nail and skin fungal infections. These are uncomfortable, embarrassing, and can even spread to others.
Most essential oils have some degree of antifungal properties. Lemon Eucalyptus Oil is one of them. Make an antifungal skin and nail tonic with a mixture of lemon eucalyptus and other essential oils. Your fungal infections will clear up in a jiffy. Recipe in the next section!
Arthritis Pain Relief

24% of Singaporeans between 18-50 years of age suffer from various degrees of osteoarthritis and arthritis pain.
There are different forms of arthritis and one of the most common is osteoarthritis. These painful conditions cause joint inflammation, severe pain, and mobility issues. If left untreated, they can lead to permanent joint damage and loss of mobility.
Lemon Eucalyptus Oil has pain-relieving and anti-inflammatory properties. Blend 3 drops of lemon eucalyptus oil with some grapeseed oil (or any other carrier oil) and use it with your regular arthritis medication to relieve pain faster and reduce inflammation.
Treat muscle spasms

Muscle spasms are a common condition that affects all of us at some point. Muscle spasms can be caused by dehydration, muscle fatigue, menstruation, and stress. Some muscle spasms can be minor and barely noticeable, while others can affect mobility so much that they can put you in bed for days!
There isn't any prescribed treatment for muscle spasms unless they get too severe. But mild muscle spasms can be annoying enough. Mix 4 drops of Lemon Eucalyptus Oil to 1 tablespoon of coconut oil and massage it on the spasming area.
Lemon Eucalyptus Oil has relaxing properties and pain-relieving properties. So if your muscle spasms are accompanied by pain, use lemon eucalyptus oil for relieving pain.
You can even make your own muscle spasms massage blend with 3 drops of Lemon Eucalyptus oil, 1 drop of Ollie's Nilgiri Eucalyptus oil, 1 drop of Ollie's Himalayan Lavender oil and 2 tablespoons of grapeseed oil. Just mix it up and massage on to the area experiencing spasms.
Natural Antibacterial Cleaner
Lemon Eucalyptus Oil has natural antibacterial properties. Additionally, it has deodorizing properties which will help you get rid of bad smells and have your house smelling fresh and sunny.
With its bug repelling properties, Lemon Eucalyptus Oil will also keep away ants, cockroaches, and mosquitoes in your house. Thanks to its antifungal properties, it'll also get rid of mouldy spots too.
Make your own bathroom cleaner with Lemon Eucalyptus Oil. I have included my very own recipe in the next section.
Improves breathing

65 million people suffer from COPD around the world.
Chronic Obstructive Pulmonary Disorder causes trouble breathing resulting in shortness of breath, poor oxygen absorption, reduced quality of life, and sometimes even death. Apart from COPD, other respiratory disorders like Asthma, Bronchitis, and pneumonia are becoming extremely common. The current coronavirus has added to the toxic mix of respiratory issues by causing pneumonia and breathing disorders.
Lemon Eucalyptus Oil helps you breathe easier by helping to clear congestion and mucous. It also improves circulation and increases the absorption of oxygen into the bloodstream.
Many breathing disorders are accompanied by inflammation. Lemon Eucalyptus Oil has anti-inflammatory properties and can alleviate some symptoms of asthma and bronchitis. Lemon Eucalyptus Oil does not cure respiratory disorders but can help you breathe easier.
I have shared my breathe easy diffuser blend recipe with you in the next section. It makes my lungs feel so relaxed and even helps me sleep better.
What is lemon eucalyptus essential oil used for?
Lemon Eucalyptus Oil is a top note and blends well with many essential oils. By itself, lemon eucalyptus works great, but blending it with other essential oils enhances both its scent and its properties.
Try these blends to get the most out of your bottle of Ollie's Lemon Eucalyptus Oil.
Mosquito repelling blend:
3 Ollie's Lemon Eucalyptus Oil + 3 Ollie's Cedarwood Oil
Alternatively, buy our in-house mosquito repellant spray which features these two essential oils (plus more)!
Relaxing Blend:
3 drops Ollie's Lemon Eucalyptus Oil + 2 drops Ollie's Himalayan Lavender Oil
Air purifying blend:
2 drops of Ollie's Lemon Eucalyptus Oil + 3 drops of Ollie's Nilgiri Eucalyptus Oil
Lemon Eucalyptus Oil goes well with other essential oils too, such as Tea Tree Oil, Lemon Oil, and Lemongrass oil.
Breathe Easy Diffuser Blend
This multipurpose blend will help you relax your lungs, breathe easier, and feel more energized. You can create a diffuser blend using this recipe or you can make a sprayable mist to spray near your pillow, in your face mask, or as an aerosol spray. No matter which way you use this "breathe easy" blend, you'll definitely reap the benefits of it.
Ingredients
Instructions
Combine all the essential oils together.
Add to a diffuser.
If using as a mask spray or aerosol spray, add the oils to a spray bottle and mix with 2 tbsp rubbing alcohol and 2 tbsp water. Shake well before use.
The combination of Lemon Eucalyptus Oil, Eucalyptus oil, and Cedarwood oil freshens the air, improves breathing, blood circulation, and also keeps away bugs. Not only that, all three oils are antimicrobial, keeping your air and other surfaces germ-free.
Bathroom cleaner

Commercial bathroom cleaners are filled with harsh chemicals that cause skin irritation and breathing problems. The chemicals are not only bad for your skin but also bad for the environment. You can make your own effective, low-cost natural bathroom cleaner with essential oils.
Ingredients
Instructions
Combine the baking soda and castile soap in a bowl until it forms a thick paste.
Thoroughly mix in the sea salt to this paste.
Mix the essential oils together in a different bowl.
Add the essential oils and apple cider vinegar to the castile soap mixture and mix in until well combined
Store in a preferably tinted glass container away from direct sunlight.
You can use this bathroom cleaner with a wet cloth. It is antimicrobial, removes nasty odours, and gets rid of stubborn stains by breaking them down.
Antifungal skin and nail oil

Skin and nail fungus is ugly and can cause itching, discomfort, and embarrassment. With this natural antifungal oil, heal skin & nail fungus faster.
Ingredients
Instructions
Mix all the essential oils with the coconut oil.
Combine in the Vitamin E oil last.
Store in a tinted glass bottle away from direct sunlight.
Pour a few drops with a dropper on a cotton ball and apply to affected areas.
The Takeaway
At Ollie, every bottle of essential oil that you buy is thoroughly vetted using the strictest international quality controls. We promise to deliver only 100% pure organic essential oil to you. Our brand is supported by years of meticulous research, building relationships with farmers and distillers, and ensuring that our products are sourced from sustainable sources.
If you are looking to use lemon eucalyptus oil, then look no further. I sell premium quality lemon eucalyptus oil distilled from lemon-eucalyptus trees in Australia. Use it to make your own mosquito repellant or blend it with other essential oils to improve your health and harmony.
Once you have bought your bottle of Ollie's Lemon Eucalyptus Oil, try some of the recipes I have shared with you and let me know how it was!
Share your experience with me on social media. I would LOVE to see what you have done with my oils! Tag me @ollie_oils on Instagram and Facebook.
After you're done mastering this oil, why not try out the rest of the amazing oils I have?
Shop now!
Have an Ollie good day!