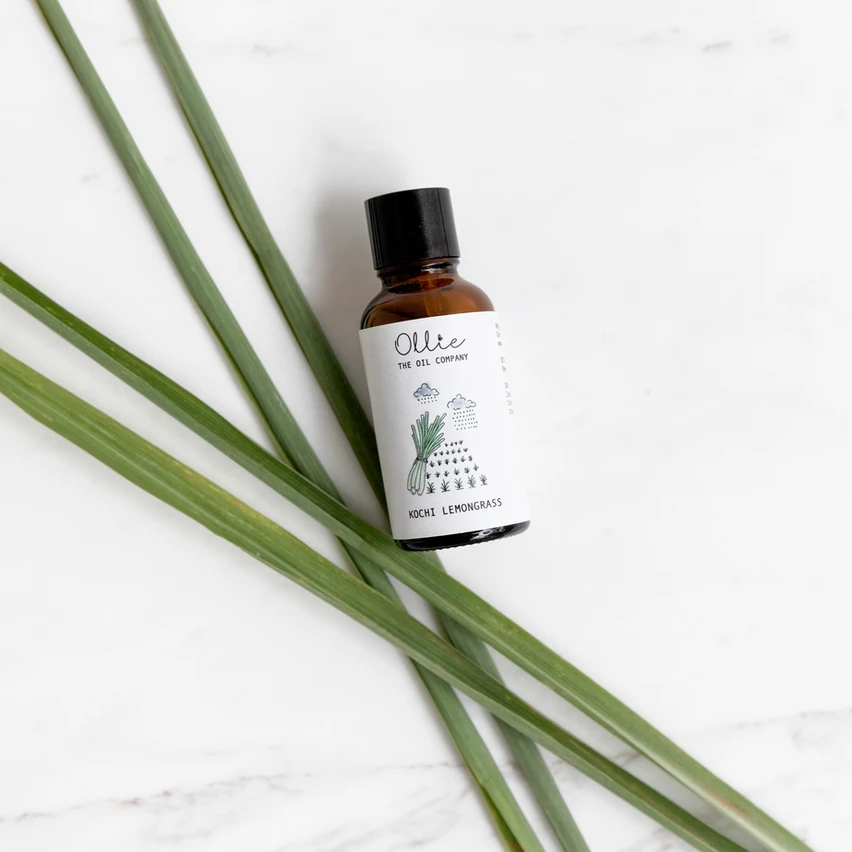 The essential facts
One of the few edible essential oils
Often used as a top note in perfumes
Used in many massage oils and parlours
Relieves nausea and migraines
Natural antidepressant – gives your mood a boost
Antimicrobial – kills the bad stuff!
Easily blended with other oils which enhances its properties
What is lemongrass essential oil? (what it is, where it comes from)
When you think of lemongrass, what's the first thing that comes to mind?
Spas? Massages? Maybe even Southeast Asian food?
That's not too far off! Lemongrass is famous for its sweet, citrusy aroma. It is a popular ingredient in Asian cooking, herbal teas, massage oils, insect repellents, and much more!
Lemongrass oil, derived from the lemongrass plant, is a fragrant and versatile oil that combines well with many other essential oils and enhances their properties. It is also one of the few edible essential oils. You can even use it on its own to make your own deodorant, aromatherapy candles, and many other goodies that I will be sharing with you later on!
If you're excited about discovering what lemongrass oil can be used for, why not buy a bottle of Ollie's Kochi Lemongrass Oil from our online store? Then use this handy guide to learn how you can add it to your daily life and reap its benefits!
What is lemongrass oil?
Lemongrass oil is the essential oil that is obtained from steam distilling the freshly cut leaves of the Kochi Lemongrass plant (Cymbopogon Flexuosus).
Also known as Cochin grass, East-Indian lemongrass or Malabar grass, this hardy little shrub grows natively in South Asia in the Indian state of Kerala and in Sri Lanka. I source my oil from the Kochi region in Kerala, which is famous for its high quality lemongrass and lemongrass oil.
This variety of lemongrass differs a little from thai lemongrass which has a less earthy scent, and is therefore more suited for culinary use.
What does lemongrass oil smell like?
Kochi lemongrass oil is very popular in aromatherapy and perfumery. Here's a breakdown of the scent of Kochi lemongrass oil:
Fresh and strong
Grassy citrus with an earthy undertone
Usually used as a top note in perfumery
You can use it to make a huge array of diffuser blends, perfumes, and room fresheners. Kochi lemongrass oil blends well with many different essential oils to create wonderful aromas. Check out my section further down on what it blends best with!
Where and how is it sourced?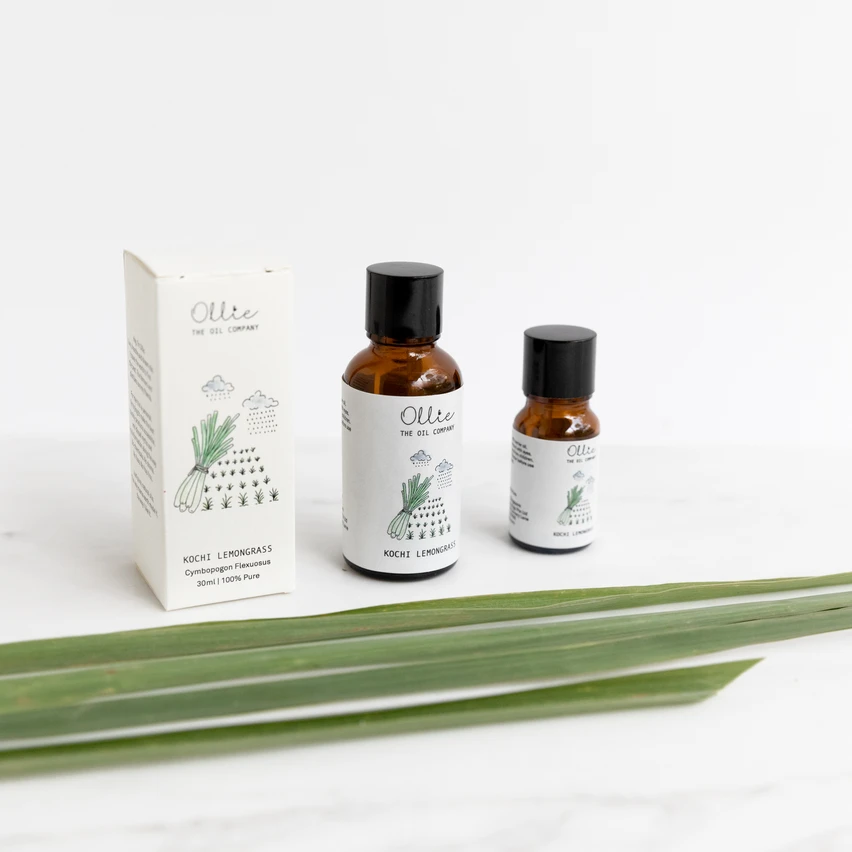 I pride myself on providing my Ollie tribe with the purest and best quality essential oils. My lemongrass oil is no exception. It is the result of considerable searching for the right lemongrass plantation, visiting multiple distillers to choose the best quality oils, and lovingly packaging each bottle that you purchase from me.
All my oils go through considerable and stringent quality checks to ensure that you're getting the purest essential oils.
As sustainability is paramount to me, I choose my lemongrass from plantations that practise ethical harvesting practises and treat their workers well. Every purchase you make at Ollie is a testament to ethical and compassionate sourcing of essential oils, and you become part of the process that makes the world a better place!
5 reasons to use lemongrass essential oil.
Kochi lemongrass oil is not only known for its earthy citrusy scent, it is also a versatile oil that has many properties that make it a great essential oil in its own right. Here's a breakdown of what I think are the best uses for it…
Relieves nausea and gas
Up to 80% of pregnant women face nausea during the first trimester of pregnancy.
Nausea and excess gas often go hand in hand.
Lemongrass oil and in fact, any lemon-scented oil such as lemon oil, are good for relieving nausea. If you're feeling queasy after last night's pizza marathon, try adding a drop of lemongrass oil to your pot of morning tea. It'll get rid of any accompanying gas as well. Your stomach will settle faster than you can say lemongrass oil!
If you are pregnant and face nausea, avoid consuming lemongrass essential oil directly. Instead add it to a diffuser blend or use it as a roll-on to combat nausea.
Migraine relief
More than 10% of Singapore's population suffers from one or more migraines per year.
Migraines cost Singaporeans a whopping $1 billion dollars in healthcare costs and results in a loss of productivity!
Headaches and their more intense variants, migraines, can be debilitating and are a big pain to deal with (literally). Headaches can be caused by a variety of factors ranging from stress, depression, and high blood pressure.
Lemongrass oil has stress and blood pressure reducing properties. Using lemongrass oil regularly has been shown to drastically reduce the occurrence of migraines and headaches.
Lemongrass has a naturally occurring compound called Eugenol. This is one of the main constituents of Aspirin (a popular treatment for headaches). So if you are not comfortable taking aspirin too regularly for your headaches, try using lemongrass oil as a diffuser or roll-on. It has the same pain-relieving compounds without the need to ingest anything.
See my recipe section below for a headache and migraine relieving diffuser blend!
Natural Antidepressant
About 6% of Singaporeans suffer from major depressive disorder, or commonly called depression.
Untreated depression can lead to poorer physical health, increased risk of heart attacks, lowered immunity, socio-economic problems, and even death.
A study on the effects of lemongrass oil on mood disorders showed that lemongrass oil has significant antidepressant ability.
Did you know? A reduced level of a hormone called serotonin is responsible for many depression cases. Lemongrass oil has been shown to boost serotonin levels in the brain, thereby alleviating depressive symptoms. So your mood actually starts improving after inhaling lemongrass oil.
But I would like to add that lemongrass oil is not a supplement to your doctor's instructions and prescriptions. What lemongrass oil does is enhance the properties of antidepressants and contribute to better mood, but it does not in any way act as a substitute for prescribed medicines. Remember, it's all about holistic healing for better health!
Natural antimicrobial
With COVID-19 making us paranoid of germs, disinfecting yourself and your space has become a daily routine for many of us.
Lemongrass has antibacterial, antiviral, and antifungal properties. Add a few drops to your wet wipes or in your hand sanitizer to make an effective sanitizing agent. You can even make your own disinfectant spray with my recipe in the next section!
You can also use it in your skin care routine. Lemongrass oil has antimicrobial properties which can get rid of acne-causing bacteria and clear up any skin fungal infections. It also has powerful antioxidant properties which reduce wrinkles, stimulate skin growth, and tone your skin making you look younger and brighter.
Massage Oil
Do you know why many massage parlours smell like lemongrass? It's because lemongrass oil has purifying and soothing properties which makes it ideal for massages. Massage therapists know this and that's why it is a common oil used at massage parlours and the reason why you smell it at those places!
Having a weekly massage has been shown to improve blood circulation to muscles and joints, promote faster healing of damaged ligaments, and prevent muscle fatigue due to exercise. Not only that, the relaxing sensations that accompany massages improve mood and promote stress relief, lowered blood pressure, and feelings of harmony.
Make your own massage blend with lemongrass oil. Recipe below!
What does lemongrass essential oil blend well with?
Lemongrass has a very soothing, grassy, lemony, and earthy aroma. Its fresh scent helps it blend well with many different essential oils.
Blending essential oils is an art and science. The main benefit of blending together two or more essential oils is that their properties are enhanced and any weaknesses are balanced out. This is called synergy, where essential oils work together to complement and balance each other out.
Lemongrass oil blends especially well with cool oils such as:
Just add 2 drops of Ollie's Kochi Lemongrass Oil and 1 drop of any of the above oils in your diffuser to make a refreshing air purifier.
Lemongrass oil also goes very well with spicy herbal essential oils such as
In your diffuser, use about 1 drop of Ollie's Kochi Lemongrass Oil with 1 drop of the above oils to create an immune system boosting blend.
To calm the mind, renew energy and freshen the mind, try adding 1 drop of Ollie's Kochi Lemongrass Oil to 1 drop of Ollie's Peppermint Oil and 1 drop of Ollie's Himalayan Lavender Oil.
Lemongrass Oil recipes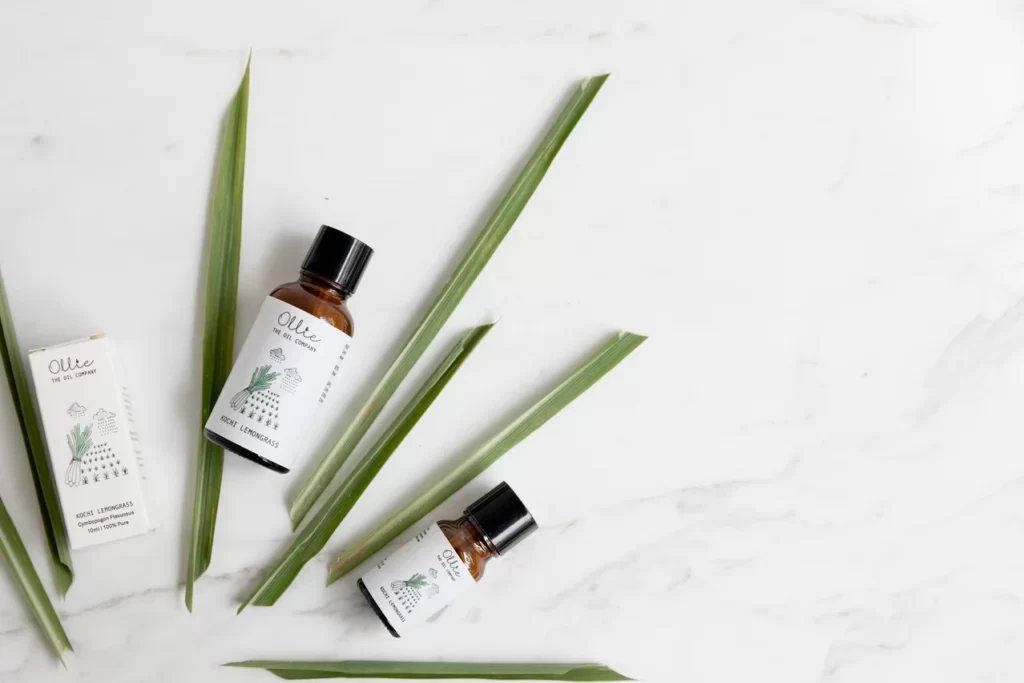 Lemongrass oil is fragrant and oh so versatile. To narrow it down for you, here is a small selection of my curated list of things you can do with lemongrass oil. Most of these recipes involve the use of multiple essential oils, which in fact, increase the effectiveness of lemongrass oil than when it is used alone. You can buy the essential oils used in these recipes in our online store. For now, let the learning and exploration begin!
Chai latte with lemongrass oil
Lemongrass oil is relaxing and can calm digestive issues. Make a refreshing cup of chai latte with this recipe.
Ingredients:
1-2 chai tea bag(s)
1 drop of Ollie's Kochi Lemongrass Oil
2 crushed cardamom pods
A small cube of ginger, crushed
2 tablespoons of milk (optional)
Method:
1-2 chai tea bag(s)
1 drop of Ollie's Kochi Lemongrass Oil
2 crushed cardamom pods
A small cube of ginger, crushed
2 tablespoons of milk (optional)
I consider this tea as soul food. It is perfect for relaxing on a cozy rainy afternoon with a good book.
Natural hand soap
Hand washing is a good habit that keeps away many nasty illnesses. During this period of COVID-19, people are encouraged to wash their hands more often. But do you ever feel that commercial hand washes are too harsh on your skin? Maybe you are worried about the environmental impact of the chemicals in your hand wash? Worry no more! Make your own DIY homemade, natural hand soap using Ollie's Kochi Lemongrass Oil.
Ingredients:
Method:
Mix the water and liquid castile soap together in the squeezy bottle.
Combine all 3 essential oils together with the jojoba oil.
Add the oils to the squeezy bottle, and thoroughly mix with the bottle shut tightly
Shake well before use every time
All the three essential oils mentioned in this recipe are known for their strong antimicrobial properties. They also have powerful healing properties so any small cuts or scrapes on your hands will be healed faster. Tea tree oil will help get rid of nail fungus if you are suffering from them. The jojoba oil in this recipe will keep your hands baby soft. So many benefits in one simple hand soap!
Massage oil for sore muscles
Lemongrass oil is a popular ingredient in massage oils because of its pleasant aroma and its restorative properties. It is wonderful for soothing sore muscles and relaxing the body. Make your own massage oil to use on sore muscles and joints.
Ingredients:
Method:
Mix all the essential oils thoroughly.
Combine the essential oils with the grapeseed oil.
Using a funnel, carefully transfer the massage oil into the tinted glass bottle.
Store in a cool dark place.
Do not use plastic bottles for this because essential oils tend to degrade plastic over time. Also keep the oils away from sunlight because it causes them to spoil.
Pamper yourself with this luxurious and soothing massage oil blend when you feel the need to relieve sore and fatigued muscles.
There are many things you can do with Ollie's Kochi Lemongrass Oil. Click on the tags for lemongrass oil to see other cool things you can do with it.
The Takeaway
This sweet smelling oil punches well above its weight with all the benefits it offers. Once you have bought your bottle of Ollie's Lemongrass Oil, try some of the recipes I have shared with you and let me know how it went!
Share your experience with me on social media! Tag me @ollie_oils on Instagram and @itsollie.oils on Facebook.
Once you're done mastering this oil, why not try out the rest of amazing oils we have? Shop now!
Have an Ollie good day!