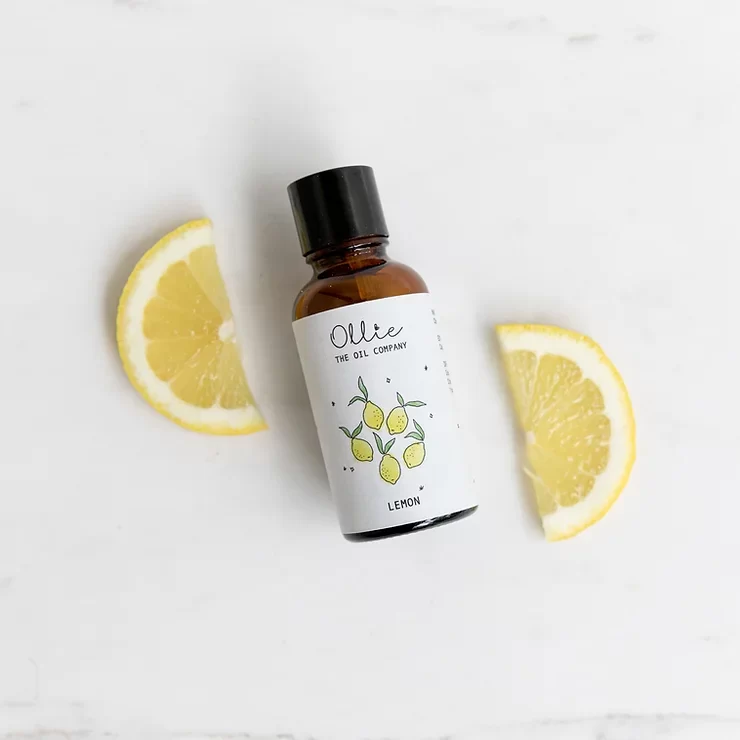 The essential facts
Scientific name: Citrus limon
Antioxidant – flush out toxins and free radicals from your body
Anti-ageing – vitamin C in lemon encourages collagen production
Digestive aid – helps your digestive system and aids in flushing out toxins through urine
Antifungal and antimicrobial – gets rid of the nasty stuff
Disinfectant – great natural alternative to killing germs
Nothing says summer like a citrus scent. It brings to mind a drink sparked with citrusy goodness, zing, and general fresh-ness… I love to use lemon oil to bring a pop of energy into my day on those days where I really need a quick pick-me-up. Its energizing and crisp scent makes it a great addition to face washes, air fresheners, and is a great product to use for baking. But… it doesn't stop here!
With its antimicrobial, anti-ageing, and deodorizing properties, my lemon oil is a must-have in your medicine and baking cabinet. Let me tell you more about this lively oil!
What is lemon oil and how it is produced?
Lemon Oil is extracted from the rind (peel) of lemons. The fruit is used for various other purposes, while the peel is where the oil is extracted from. Lemon Oil is a "cold-pressed" oil, which means the oil is extracted by pressing or crushing the rinds. Unlike most other essential oils that are extracted by steam distillation, lemon oil is obtained when the rinds pass through grated cylinders that grind it, breaking open the sacks that contain the oil. The residual result is lemon oil!
Environment lovers would be interested to know that in the production of lemon oil, there is hardly any wastage of resources. Lemon Oil is a by-product of the lemon juice industry. The fruit is used for juices and the leftover rinds are used for extracting oil. Post extraction, the biowaste is then composted for making manure. That's maximum utilization of resources right there!
Here are some benefits of using cold-pressed essential oils:
Safer for consumption in food and beverages
Organic method of extracting oil
Cold-pressed oils retain a lot of antioxidant properties, scent, and taste – all the better for you!
Did you know?
It takes over 1200 lemons to produce just 1 kilo of oil.
The world's largest producers of Lemon Oil are Argentina, Italy, Spain and the United States.
Where is my lemon oil sourced from?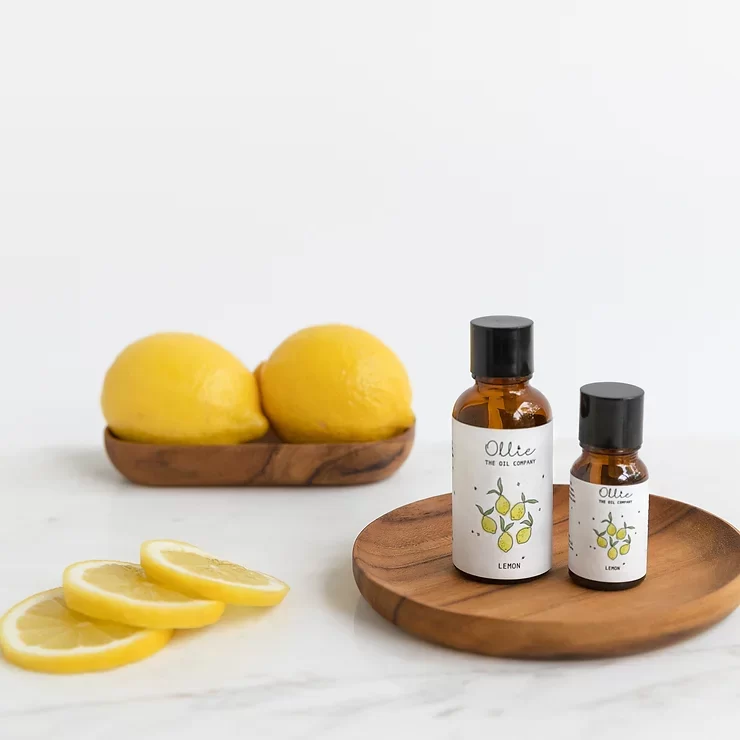 I am committed to giving you only the best quality oils. I believe in sustainable and ethical sourcing of my products, so I always source my lemons and oil from producers in Spain who use fair trade practices. I also vet oil presses for hygiene and safety standards.
My oils undergo multiple stringent quality control checks before it is lovingly bottled for you. Nothing but the best for my Ollie tribe!
Why you should use lemon oil
Lemon oil has a variety of natural goodness that you can harness to compliment your daily life. It is one of the most popular essential oils and it all boils down to one thing – limonene.
Limonene is the compound that gives lemon oil the distinct citrusy aroma we all love. Lemon oil is 94% limonene and the rest is composed of various other compounds in smaller percentages. There is a lot of research that is going on into mapping limonene's beneficial properties in lemon oil, some of which include:
Antioxidant & anti-inflammatory properties
Antimicrobial properties
Anticarcinogenic properties
Great with solvents for use in air fresheners, surface cleaners, etc.
Natural pesticide
It is a great natural complement to your chemical needs, smells amazing, and it just so happens to have all these benefits too! Let's dive a little deeper into the benefits of this oil…
The Top 5 Benefits of lemon oil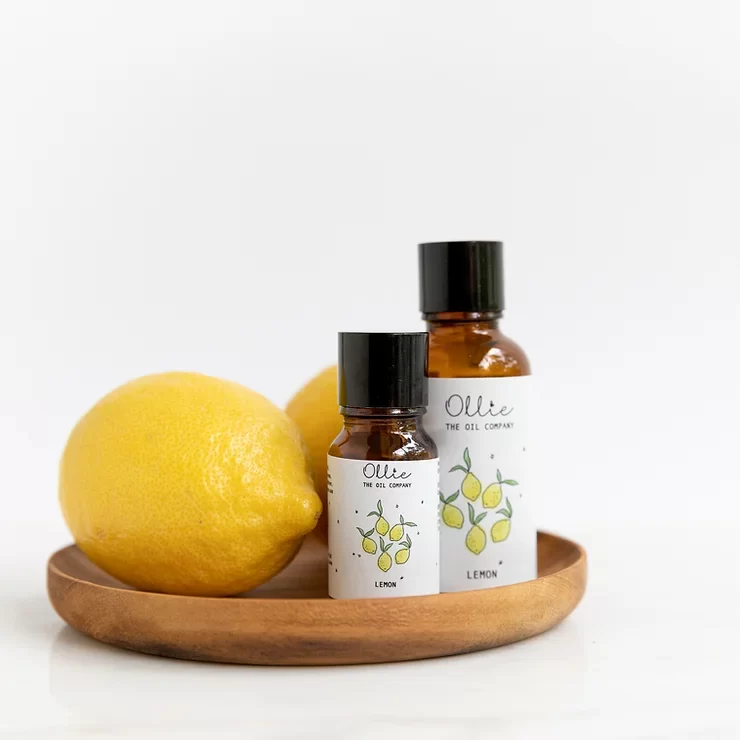 You might already be somewhat familiar with what lemon can be used for since it is already used in such a wide variety of ways. Let me share with you the top ways I think lemon oil can be used for!
1) Skin care saviour
Say goodbye to dull, spotty skin with lemon oil. This oil's antimicrobial property easily gets rid of acne by killing the bad stuff on your skin and its antioxidant properties help your skin heal faster from scars and blemishes. Apply a drop or two of lemon oil to your skin care products and watch it weave its magic. Check out my recipe for an all-natural, DIY face mask below!
2)  Ultimate natural cleanser
Have you noticed most commercial cleaners are scented with lemon? This is an attempt to mimic the effects of limonene, which has great antimicrobial and cleansing properties. Lemon oil also has natural deodorizing properties, so it makes a great natural alternative to store bought all-purpose cleaner, plus you get to control how much you want to use and reap the full benefits of this oil. Have sparkling floors, remove stubborn stains, and get rid of noxious odours with lemon oil. Keep reading to find out how you can make your own natural all-purpose cleaner at home!
3)  Natural disinfectant
Most essential oils have natural antimicrobial properties. But some essential oils have stronger antimicrobial effects than others. Lemon Oil is one of them. It is great for disinfecting wounds, can be added to make natural hand sanitizers, and can be used to sanitize surfaces. Packed with Vitamin C, antioxidants, and antimicrobial properties, Lemon Oil is a must-have in your medicine cabinet. Use it in a variety of products to get the best of its antimicrobial and antifungal properties.
4) Nausea remedy
Smelling lemon-scented things has often been prescribed as a remedy for nausea. This isn't just an old wives' trick. Lemon Oil and other lemon-scented items have been observed to reduce nausea and vomiting by as much as 40% in pregnant women. Add it in a diffuser blend or plop a drop in your morning tea for a relief from awful morning sickness. Certainly a refreshing start to the day!
5) Mood booster
Lemon oil is popular in aromatherapy and has energizing & mood lifting properties. It has also been shown to help people with Alzheimer's disease improve their cognitive function. Not only that, lemon oil has been shown to improve our pain tolerance levels because it alters the way we perceive pain. Lemon oil is as effective as lavender oil in reducing anxiety, depression, and stress levels. Use it with a diffuser after a long day to instantly feel energized.
Another oil that is known to improve moods and aids in relieving stress is lavender oil. Read more about it in my blog on it!
How to use lemon oil?
Now that you have learnt how beneficial using lemon oil in your daily life is, knowing how to use it is equally important.

Ollie Caution!
Like all essential oils, lemon oil must be diluted with a carrier oil such as coconut or jojoba oil, or diluted in water. Using it undiluted on your skin can cause skin irritation and strip your skin of its natural protective oils.
Lemon oil is alright to be ingested in highly diluted forms.
Do not use this oil on pets as it is toxic to them.
Most importantly, do note that lemon oil is phototoxic. This means that when it is applied on the skin and your skin is exposed to the sun without washing the oil off, it can cause blistering, itching, and sunburns. So always remember to wash the oil off your skin with soap and water before going out.
Phototoxicity affects only externally applied oil. Products like hand sanitizers, moisturizers, and serums which contain lemon oil should not be used if you are going out into the sun within the next 12 hours after application. If you do have to go out, always remember to thoroughly wash the products off with soap and warm water.
One thing you do not have to worry about is when you use it in your diffuser for its aromatherapy benefits… go wild (within reason of course)!
DIY lemon oil recipes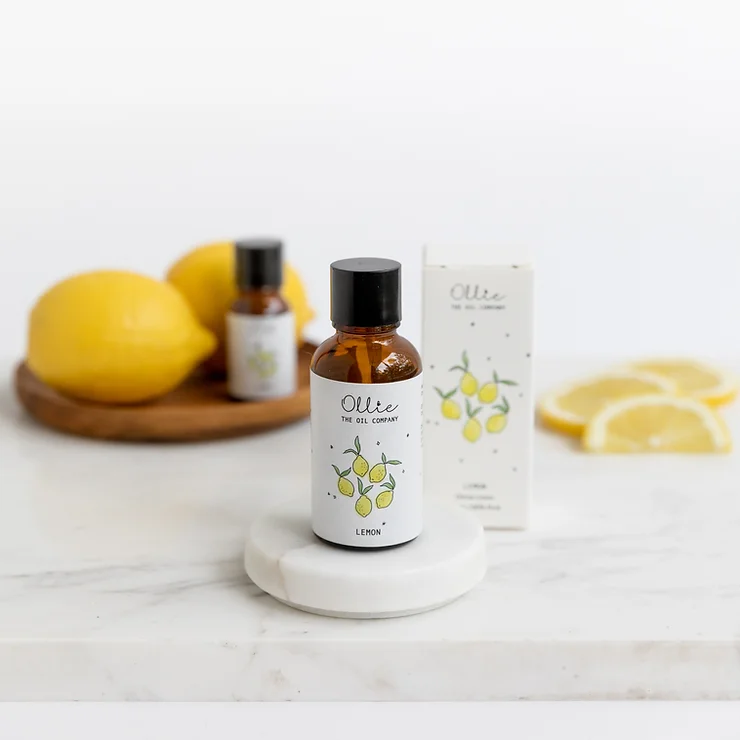 Now that you know how to use lemon oil and all its benefits, why don't you check out some of my cool DIY recipes? They are simple and useful, and can be done at home with commonly available ingredients.
Get your bottle of my lemon oil here!
Homemade face mask
Lemon Oil is a great addition to any skin care routine. It is packed with antioxidants and anti-aging compounds which will leave your skin feeling like new. Not only that, lemon oil has Vitamin C, which is very important in the skin regeneration process. But the goodness of lemon oil for your skin hardly ends here. Its antimicrobial property gets rid of acne and also promotes healing of blemishes. So check out my DIY homemade face mask using lemon oil!
Ingredients:
Instructions:
First, combine all the essential oils together.
Whisk the egg whites until the mixture is frothy. Add the oils (and lemon juice) to the egg whites while whisking.
Apply the mask to your face avoiding the eyes and mouth. Let it sit for 15-20 minutes and wash it off with warm water.
Apply moisturizer to seal in the benefits gained from the mask.
The combination of lemon oil, lavender oil, and tea tree oil, all of which are skin care essentials, will leave your skin glowing, blemish free, and looking youthful.

Ollie Caution!
As this recipe uses lemon oil, which is phototoxic (see my section on how to use lemon oil), use this face mask only at night. If you are using it in the morning, avoid direct sunlight for at least 12 hours and be sure to thoroughly wash it off.
Explore the skincare benefits of essential oils with my homemade sugar scrub with peppermint oil here!
Natural all-purpose cleaner
Lemon Oil has natural deodorizing and antimicrobial properties. Its pleasant citrusy scent makes your home smell oh-so inviting, so why not add it to your cleaning products? Ditch those chemical-laden commercial cleaners and make your own with this easy DIY recipe for a natural all-purpose cleaner.
Ingredients:
20 drops of Ollie's Lemon Oil
10 drops of Ollie's Nilgiri Eucalyptus
½ cup of white distilled vinegar
2 cups of water
1 teaspoon of unscented liquid castile soap
Instructions:
Pour the vinegar into a spray bottle.
Mix the water, castile soap, eucalyptus oil and lemon essential oil.
Add the resultant water, soap, and oil mixture to the vinegar.
Close the bottle and shake the mixture well before using.
To use: Spray on the surface you want to clean and wipe with a damp cloth.
The smell of vinegar will evaporate almost immediately leaving only a fresh citrus and eucalyptus scent, so don't worry about your house smelling vinegary. Both lemon oil and eucalyptus oil have antimicrobial properties and are great additions to house cleaning agents.
Want to make another natural all-purpose cleaner with a different set of benefits? I have another recipe using tea tree oil that you can do that with. Read about it here!
Lemon oil diffuser blend
Nothing brightens up my day like a well-made diffuser blend. These have the ability to completely transform your surroundings and lift your mood. A diffuser blend will also act like an air purifier, helping to dispel bad air, freshen the atmosphere, and kill any air-borne microbes. Using aromatherapy in your home will not only improve your mood because of the calming, healing scents, but also have positive outcomes for your physical health as well.
The best part is, lemon oil blends well with a HUGE variety of oils, so you are really spoiled for choice and can mix & match according to your preferences. I have crafted this beautiful diffuser blend with lemon oil just for you, but feel free to experiment with other essential oils from my store to create your own unique scent!
Ingredients:
Instructions:
Blend these oils into your diffuser or make it into an aromatherapy inhaler to carry with you on the go.
This recipe is great for an energy boost. Lemon and peppermint oil both give energy boosts while lavender oil will help you clear your mind.
It's the best of 3 worlds! Enjoy!
Natural hair tonic for oily hair
Is greasy hair affecting your confidence? Or is it causing actual discomfort like itchiness and tiredness? Then this is the recipe for you. Control your scalp's oil production with this nifty recipe.
Ingredients:
20 drops of Ollie's Lemon Oil
½ cup witch hazel
½ cup water
Instructions:
Mix all the ingredients thoroughly and transfer to a squeeze bottle. Remember to shake the bottle well before use.
Wash your hair as usual.
Pour a little of the tonic on a cotton ball and apply to damp hair.
Apply the tonic on your scalp by making partings with your hair.
Apply it all over your scalp and then allow your hair to dry.
Not only will your hair have a lovely citrusy scent, you'll soon see a reduction in oil production and scalp itchiness.
Psst… your scalp can also benefit from peppermint oil. Learn how to benefit from it here!
Natural remedy for varicose veins
Did you know lemon oil improves circulation and reduces inflammation? Use this recipe to reduce the appearance of varicose veins.
Ingredients:
10 drops of Ollie's Lemon Oil
7 drops of Ollie's Sweet Orange Oil
7 drops of holy basil oil
7 drops of rosemary oil
¼ cup of extra virgin olive oil (carrier oil)
1 cup shea butter
Instructions:
Combine the shea butter, olive oil, and essential oils in a glass bowl. While mixing, always remember to scrape the bottom of the bowl and mix thoroughly.
Once combined, whip the mixture until it is light and fluffy akin to soft butter.
Scoop and store in a glass jar.
Store in a refrigerator or a cool, dark place.
Massage onto legs when needed.

Ollie Caution!
As this is a topically applied product with lemon oil, you run the risk of getting sunburns and skin sensitivity because lemon oil is phototoxic. Remember to thoroughly wash the product off your skin with soap and warm water before you leave the house.
The Takeaway
I hope this article has convinced you on why you absolutely need lemon oil in your medicine cabinet. I encourage you to be creative but please observe the safety cautions when using it!
With its powerful antimicrobial, deodorizing, and antioxidant properties lemon oil can be added to pretty much any product that uses these properties such as skin care products, household cleaners, sanitizers, air fresheners, etc.
Bring in some "liquid sunshine" into your life today by ordering your bottle of Ollie's Lemon Oil from my store. I guarantee the best quality essential oils for my Ollie tribe. Come back and try other oils that will benefit you just as much!
Share your experience with me on social media! Tag me @ollie_oils on Instagram and @itsollie.oils on Facebook. Take care of yourself and stay citrusy bright!
Once you're done mastering this oil, why not try out the rest of amazing oils we have? Shop now!
Have an Ollie good day!