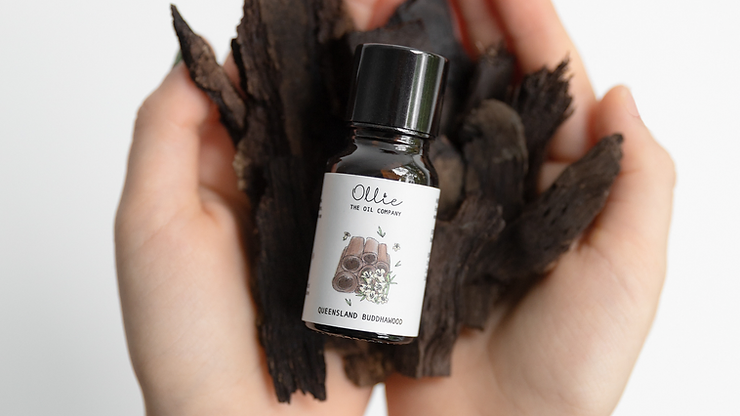 If 2020 wasn't stressful enough, 2021 appears to be even worse with renewed worldwide lockdowns. You know what you need to melt away all that stress?
A deeply relaxing and transcendent aromatherapy session. And no, you don't have to go anywhere for that.
Create one in the safe, comfortable confines of your home. All you need is some creativity and a bottle of Ollie's Buddha Wood Oil.
Introducing our latest luxury essential oil, Buddha Wood oil will make your home a deeply calming, zen zone with just a few drops.
Experience emotional grounding and inner peace with a few drops of buddha wood oil in your diffuser.
What is Buddha wood essential oil?
Buddha wood oil is famous for its healing and relaxing effects. Aboriginal Australians have used buddha wood oil for several thousand years to heal wounds, cuts, & scrapes. Most importantly, it was used in traditional shamanic practises to aid deep meditation and sedation.
A woody, musky-smelling oil with a deep brown colour and thick resinous texture, buddha wood oil is distilled from the Eremophila mitchelli tree.
It is sometimes called False Sandalwood oil for its similarities to sandalwood oil in terms of scent and properties.
Buddha wood oil has powerful anti-viral and anti-inflammatory properties as well. In the midst of a viral pandemic, this is one oil you should definitely stock up on.
Where does Ollie's Buddha Wood Oil come from?
Native to the Australian outback, the resin-filled branches and stem of this small woody tree is steam distilled to extract the essential oil.
Buddha wood oil has been used by Aboriginals for thousands of years for its medicinal properties. It is useful for cleaning wounds and treating cuts.
Thanks to the oil's relaxant and meditative properties, it was frequently used by shamans in religious rites.
Did you know…
Buddha wood trees used to be an invasive plant in Australia until their value as an essential oil was discovered? Since then, efforts have been made to manage buddha wood tree plantations sustainably so it does not become an invasive species.
At Ollie, I source my buddha wood oil from places that practise sustainable and correct management of trees so they do not become an environmental hazard.
What does buddha wood oil look like?
Appearances can be deceiving — Buddha wood oil may look like alien goo, but it's nowhere that gross or scary.
Its thick resinous chocolaty black appearance may make you nervous, but don't worry, this oil is gentle to use. It has a subtle, understated fragrance and multi-purpose use. It's like the gentle giant of essential oils.
But be careful not to get it on white sheets! It may stain them.
How to use Buddha wood oil?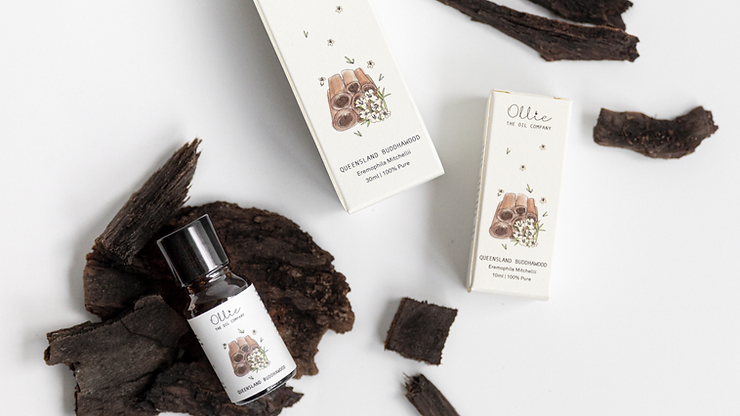 We love Buddha wood oil for its unique scent which is quite unlike any other essential oil.
It has a smoky, woody scent with hints of spice, leather, and earth. If you're into creating scents and perfumery, Buddha wood oil is a perfect complement to our cedarwood, sandalwood, and lavender oils as a base note. Its mild scent is perfect for unisex colognes and fragrance products.
Buddha wood oil also blends well with most other floral oils (lavender oil), citrusy oils (sweet orange oil, lemon oil, lemongrass oil, or lemon eucalyptus oil) or green oils (geranium oil and spearmint oil).
Incorporate Buddha wood oil into your aromatherapy by making candles, exotic smelling colognes, luxurious skin-care formulations, bath salts, and diffuser blends.
Combine its antimicrobial properties and pacifying scent to create wonderfully therapeutic aromatherapy products.
Our next section will share with you cool DIY recipes for you to try out with your bottle of Ollie's Buddha wood oil.
Buddha wood oil recipes
1 bottle of Ollie's Buddha wood oil and 4 cool DIY recipes to try out (and more if you're creative)!
Zen-Zone diffuser blend
Buddha wood oil is known for its calming, grounding properties. For thousands of years, its scent has inspired people to seek out the mystical and open their minds to peace.
Through experimentation and research, I have created my own "Zen-zone" blend for those days when everything feels overwhelming, loud, and exhausting.
This essential oil blend can be added to your diffuser and left on for a few hours to invite calmness, grounding, and relaxation back into your life.
All the essential oils used in this recipe are known to have spiritual and relaxant properties. Additionally, they help regulate blood pressure, ease breathing, and reduce inflammation — all symptoms that accompany high stress and tension.
Ingredients
2 drops of Ollie's Buddha Wood Oil
2 drops of Ollie's Himalayan Lavender Oil
1 drop of Ollie's Somali Frankincense Oil
Optional:
1 drop of Ollie's Mysore Sandalwood Oil
1 drop of Ollie's Himalayan Cedarwood Oil
Instructions:
Add the essential oils to your aroma diffuser and let it run for a few hours.
"Call-me-maybe" Cologne
There is nothing more tantalizing than a partner who smells mysterious and delectable. Turn up the heat by creating your own cologne for that special someone. This is a perfect gift to your significant others.
The essential oils used in this recipe are deep, earthy, musky scents that also have mood-improving properties. Perfect for a date night!
Ingredients
Roll-on bottle (10ml)
4 drops of Ollie's Mysore Sandalwood Oil
10 drops of Ollie's Buddha Wood Oil
4 drops of Ollie' Somali Frankincense Oil
1 tablespoon of any carrier oil
Optional:
3 drops of Ollie's Himalayan Lavender Oil
Instructions:
Mix all the essential oils together with the carrier oil.
Ensure the oils are well blended.
Using a funnel, carefully pour the oils into a roller bottle.
Swirl before using and gently dab onto the skin.
Luxury Bath Salt
Who doesn't love a long, relaxing bath and a good body-renewing scrub down? After a long day of zoom meetings, this is all you need to pamper and rejuvenate yourself.
Buddha wood oil will heal skin abrasions, calm inflamed skin, and soothe stiff muscles. The addition of sandalwood oil, cinnamon oil, lavender oil, and peppermint oil will clear any skin infections, reduce dry skin, and encourage new growth making your skin soft and supple.
Coconut oil will help bring back that healthy glow to your skin.
Ingredients
3 drops of Ollie's Buddha Wood Oil
2 drops of Ollie's Himalayan Lavender Oil
2 drops of Ollie's Peppermint Oil
1 drop of Ollie's Mysore Sandalwood Oil
1 tablespoon of cold-pressed coconut oil
70g of epsom salt
Optional:
1 drop of Ollie's Ceylon Cinnamon Oil
Instructions:
Mix all the oils together with the epsom salt.
Add the bath salts to your warm/hot bath water and have a good soak.
Sacred space aromatherapy candles
By now, you have probably figured out buddha wood oil's meditative and spiritual properties. It can aid in warding off negative energy and bring healing into your space.
Buddha wood oil is one of the essential oils that is a perfect complement to aromatherapy practises aimed to restore spiritual harmony into your life. Ditch those expensive store-bought candles with way too many synthetic fragrances and make your own natural essential oils based candles.
These candles will take your yoga and meditation practices to a whole other level with their divinely soothing fragrance.
They are also great gifts for your loved ones to remind them to unwind a little from their hectic lives.
Ingredients
For the candle:
1 glass container for your candle (100ml)
250gm of beeswax
1 candle wick
1 pair of wooden skewers (to hold the wick in place)
Saucepan (to melt the beeswax)
For the scent:
10 drops of Ollie's Buddha Wood Oil
8 drops of Ollie's Mysore Sandalwood Oil
5 drops of Ollie's Himalayan Cedarwood Oil
4 drops of Ollie's Ceylon Cinnamon Oil
Optional:
3 drops of Ollie's Himalayan Lavender Oil
3 drops of Ollie's Somali Frankincense Oil
Instructions:
Melt your beeswax over a saucepan. Turn the heat to low or medium so your beeswax doesn't burn. Stir it every few minutes with a wooden skewer to ensure even melting.
Once slightly melted, add a few drops of beeswax to the bottom of your glass candle jar. Then, using the help of a wooden skewer position your wick on the melted beeswax so it stands upright.
Remember, your wick needs to be longer than the jar. You can cut the size later.
Once the beeswax is melted, turn down the heat slightly and add in the essential oils.
Mix it thoroughly with the wooden skewer used for stirring.
Once thoroughly mixed, remove the beeswax from the heat and carefully pour it into the mason jar. Careful, it will be hot!
Let the candle sit for 3-4 hours and cool down.
Once cooled, cut the wick to desired size.Use the candle only after at least 6 hours.
Use buddha wood oil for instant benefits
Buddha wood oil is one of those essential oils that are very rewarding to use. With a unique and versatile scent, it can be paired with many essential oils to create relaxing, therapeutic, and healing aromatherapy products.
Or if you prefer to use it on its own, buddha wood oil punches way above its weight in the benefits it offers. Best used for meditation sessions, yoga practises, and to unwind after a long, long day — this is one oil you need to have in your collection.
After reading this article, are you excited to try out these recipes with your newly-purchased bottle of buddha wood essential oil?
Share with us on our Instagram @ollie_oils your DIY essential oil recipes with buddha wood oil.
If you are still unsure on whether you want to buy a bottle of Ollie's Buddha Wood essential oil, check out our other essential oils. You will definitely find one that resonates with your personality.
Whether it's a sparkly sunny bottle of sweet orange essential oil for all you summer-loving folks or a cool soothing bottle of peppermint oil, there's something in my store for everyone.
While you're waiting for your order of Ollie's essential oils to be delivered, head over to my blog for fun DIY essential oil recipes to try at home with your family or friends.
Aromatherapy beginners and connoisseurs can find cool new recipes and tips on what essential oils to blend with, aromatherapy recipes, and more!